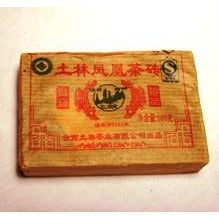 2011 Nan Jian Factory 100g Zuncha Brick "China-Org"
Regular price $15.00 Sale
The Nan Jian Factory mini brick is 100g of some great ripened Pu-erh. The leaf base comes from Wu Liang Mountain and Lincang growing regions. Chinese Certified Organic leaf material. Three leaf grades are used to make this cake Gong Ting, Grade 1 and Grade 3 ripened teas are combined and fermented the year before in Oct. 2010. Try a couple of these pocket sized bricks.